10 Unique Ways to Enjoy Your Yacht Rental: From Sunset Yoga to Champagne Tastings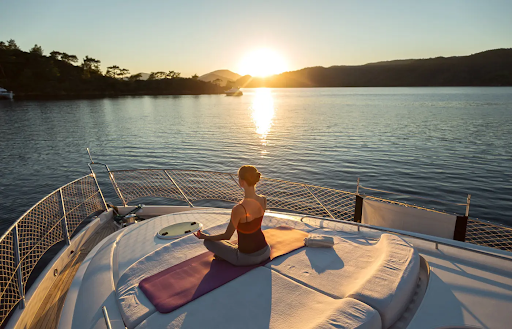 Sunset Yoga Sessions: There's something entrancing about doing yoga while you watch the sunset. Hire a yoga instructor to lead you in a peaceful practice on the deck of your yacht.
Water Sports: Take advantage of the open water by trying out some water sports like wakeboarding, water skiing, or even tubing. Your yacht rental company may offer equipment rentals or can recommend local providers.
Island Hopping: Use your luxury yacht charter as a mode of transportation to explore nearby islands. Anchor at different locations and go ashore to discover new sights and sounds.
Aquaticlife Watching: Many areas have an abundance of wildlife that can only be seen from the water. Look for dolphins, whales, sea turtles, and other sea creatures.
Champagne Tasting: Nothing says luxury like sipping champagne on the deck of a yacht. Enlist the services of a sommelier to lead you through a champagne-tasting experience and gain knowledge on the distinct qualities of each.
Star Gazing: The clear night sky is a stunning sight when you're out on the open water. Bring a telescope or binoculars and spend a peaceful evening gazing at the stars.
Fishing: Rent some fishing gear and try your luck at catching dinner. Many types of fish can be caught from a yacht, including tuna, marlin, and mahi-mahi.
Beach BBQ: Anchor at a secluded beach and have a BBQ party on the shore. Grill up some fresh seafood and enjoy the sand and surf.
Fine Dining: Hire a private chef to create a gourmet meal for you and your guests. Dine under the stars and enjoy the luxury yacht charter of being served a delicious meal while surrounded by the sea.
Waterfront Spa: Some yacht rental companies offer spa services on board. Get a massage, facial, or other spa treatments while enjoying the gentle rocking of the yacht.
In summary, a yacht rental Dubai provides a plethora of opportunities for unparalleled experiences and everlasting memories. With options ranging from sunset yoga to champagne tastings, there are countless ways to relish in your yacht rental. Whether you seek serenity or excitement, there is something to suit every preference. Why not seize the chance to indulge in opulence and partake in a yacht rental experience with Book.Boats? You can contact book.boats for yacht booking Dubai. You can either call us at +971 50 240 0018 or mail us at book@book.boats.