7 Ways To Make Your Yacht Trip Memorable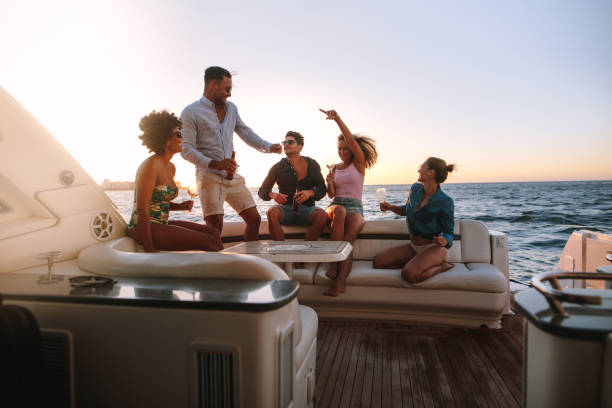 One of the activities that are always refreshing and fun to do. Dubai's oceans are teeming with varied types of fish, and a good catch would be a sheer delight to your experience.
It can also be heated up while being cooked on board. The skilled crew will assist you with the task, and the boat will have fishing equipment. You just need to confirm if deep-sea fishing is part of the Dubai yacht rental package.
To make your yachting experience even more thrilling, throwing a party would be an ideal plan to make crazy memories. You can enjoy and vibe with cocktails and have fun dancing around the seas. What a vibe!
Furthermore, there are pricey hotels in upscale and beachfront sites. But can any of them offer sights constantly shifting in a split second? Yes, you can only get this on a yacht.
Since food might not be included in the few yacht trip package, cooking on board is a fantastic idea. It will be intriguing, and you can finally eat while enjoying the amazing views.
If you've tried fishing before and succeeded, include your catch in the meal. A refrigerator, microwave oven, and electric grill will all be available in the yacht's kitchen. You can grill a BBQ and eat it while chilling around with random conversations with your friends!
A yacht charter trip conjures visions of the clear, deep blue sea, chilly waves, and a beaming sun in a clear sky. The options for water sports during a yacht rental trip are virtually endless. You may go water skiing, snorkeling, diving, Ringo, sea bob, banana, submarine, snorkeling, and more.
Not to mention, enjoy some enjoyable music while on the yacht for your holiday! Speakers that cover the entire space are found on several yachts. A pleasant time hanging out with your friends can be had while listening to whatever enjoyable music you want.
Do you want to explore while yachting? There are many places to visit, such as the Burj Khalifa, the Palm Jumeira, and the Dubai Marina, to spend your ideal day. You wouldn't mind spending days on a yacht because every location in Dubai is breathtaking.
Despite all the exciting activities and heart-pumping enjoyment, Yachting is perfect for spending time alone as well, and away from the bustle of the city You can take a pleasant holiday by renting a yacht for some me-time and relaxation!
The yachters won't experience even a single boring moment. You can develop several wild ideas to make your dubai yacht rental trip unique. However, if you try these, you'll want to take another trip on the sea during your next vacation!