Enjoy Breathtaking Views Of The Dubai Coastline Through Parasailing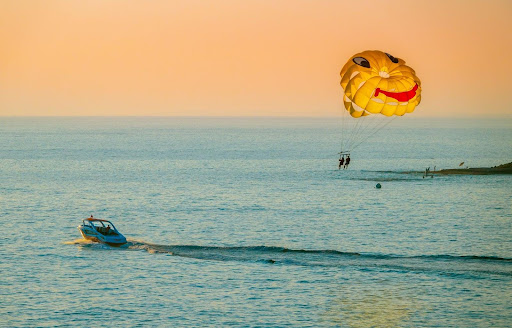 What is Parasailing?
Parasailing tours are of two types, namely, Aquatic and Terrestrial. Aquatic parasailing, as the name implies, takes place over water and uses a speedboat, whereas terrestrial parasailing takes place over land and uses a vehicle, like a jeep. Parasailing in Dubai is a fun activity that is ideally on a water body. It involves being hauled behind a speedboat attached to a specially designed parachute.
Participants have to sail in the skyline suspended by the parachute, which is exercised and hauled by the boat. This would gently lift you up to a height of 150 meters above the water, eventually allowing you to enjoy the ride with a sensation of lightness and in a convenient swing-like, seated position. In addition to flying like a free bird, you get to witness the entire Dubai coastline and phenomenon at the never-ending beaches and all the iconic structures that are visible to you along the seacoast. Once your time is over, you shall safely be hauled back onto the same boat you flew from.
The best thing is that you can enjoy Dubai parasailing even if you don't know about swimming. Thus, unlike kayaking, rafting, and surfing, parasailing is not considered an extreme water sport. This makes it perfect for beginners and anyone who craves a soothing adventure. To ensure your safety while parasailing, wear life jackets in addition to adhering to all safety regulations.
Avenues In Dubai To Experience Parasailing
It is best to get in touch with the service provider directly because the itinerary and package cost would include pick-up from the hotel or your place of lodging, the time required for the activity, a time slot that is available, drop-off, the number of people, and other details like an age limit. If you plan ahead before your outing, this could help you save a lot of time. In Dubai, a few places that provide parasailing are:
Jumeirah Beach
Dubai Marina
Leading marine and water sports companies in Dubai provide a parasailing package that includes well-trained instructors, parasailing equipment, life jackets, and safety gear required for the purpose. Yacht rental companies in Dubai also offer packages that can suit your requirements.
The best way to learn about this flying sport is through the exhilarating Dubai parasailing experience. You should definitely incorporate parasailing in your Dubai tour if you rent a yacht from our yacht rental Dubai services to add to your dubai experience.