Everything you need to know about wakeboarding Dubai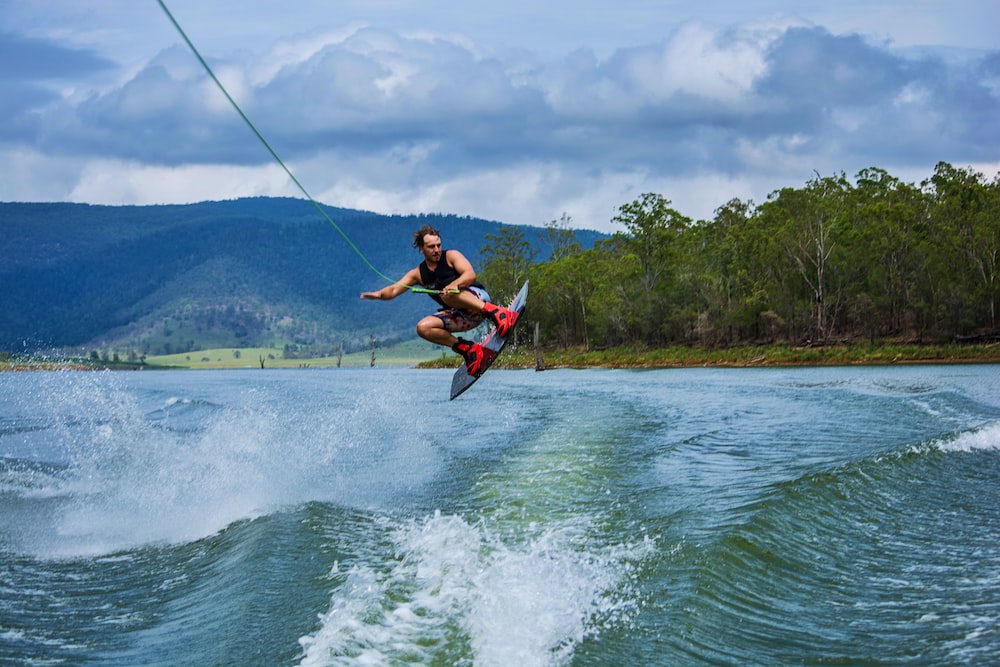 What is Wakeboarding?
Wakeboarding dubai is an extremely thrilling sport performed on water. A motorboat pulls the rider, who is strapped to a board, to speeds of up to 50 km per hour. It is ideal for a wide spectrum of people in terms of age and is nearly like riding an infinite wave. You need to leave in 7 mins
TYPES OF WAKEBOARDING DUBAI
Wakeboards can be divided into three distinct groups: boat wakeboards, cable wakeboards, and hybrid wakeboards, which combine the two.
Boat wakeboards are designed for those who prefer to ride behind a boat. These boards have less flex, allowing for a better boost on the lips of wakes. Heavy-duty and with a focus on the base, they are built to handle rough landings. You can choose from boards with molded or bolted-on fins to customize your ride.
With a cable system that pulls you around and obstacles to practice tricks on, cable wakeboards are built to handle the beating they take. They may have removable fins or none at all, making it easier to slide on obstacles. They are also designed to be durable with a lot of flex.
For those who want to do both boat and cable riding, a hybrid wakeboard is the perfect solution. These boards have flex in the tips for cable riding but are stiffer in the middle for boat riding. They come with or without fins, allowing you to customize your setup for each type of riding. You can choose a hybrid wakeboard to get the most out of both boat and cable wakeboarding.
TOP PLACES TO VISIT FOR THE BEST WAKEBOARDING EXPERIENCE IN DUBAI
Dubai Marina: Dubai Marina is one of the most popular spots for wakeboarding in Dubai. With calm waters and stunning views of the city's skyline, it's the perfect place for wakeboarders of all skill levels.
Jumeirah Beach: Jumeirah Beach is another popular destination for wakeboarding Dubai. With its wide-open waters and scenic views of the Burj Al Arab, it's an ideal spot for experienced wakeboarders.
Kite Beach: Kite Beach is a favorite among local wakeboarders. With its consistent winds and flat waters, it's perfect for wakeboarders who want to practice their tricks.
Dubai Creek: Dubai Creek is a great option for wakeboarders who want a more laid-back experience. The calm waters and peaceful surroundings make it an excellent spot for beginners.
Atlantis, The Palm: Atlantis, The Palm is a luxury resort that offers wakeboarding experiences for all skill levels. With its state-of-the-art facilities and expert instructors, it's an ideal spot for those looking to improve their wakeboarding skills.
With our most recent Dubai yacht rental packages, water sports enthusiasts, whether beginners or experts, can enjoy wakeboarding in Dubai along with other watersports Dubai. Reach out to book.boats for all your yacht rental needs and we will assure you of an unforgettable experience!