Is jet skiing in Dubai worth the expense?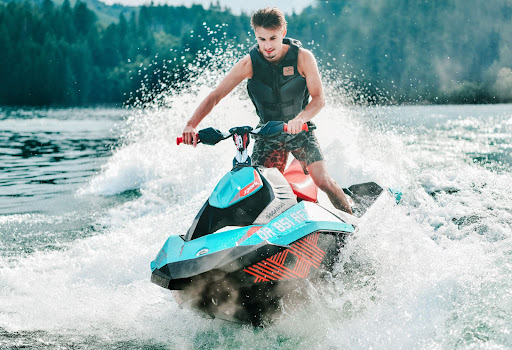 What is Jet skiing?
Jet skiing is a fast-paced water sport that is well-liked not just in Dubai but also across the world as a competitive sport.
Why rent a Dubai jet ski?
One of the most evident reasons to go jet skiing in Dubai is the thrill it will bring you. A jet ski trip along Dubai's shoreline will give you a whole new perspective on the city and give you a chance to appreciate the beauty of the city's ultramodern architecture. You might pick up some excellent jet ski riding tactics from the instructor who will be sitting behind you. Your adrenaline rush would rise by this encounter to a new level of open-water adventure. Enjoy the pleasing views of Dubai's famous landmarks, including the Burj Al Arab, as you travel through the incredible Jumeirah islands' coastline.
Where to Jet ski in Dubai?
Let's look at the top beaches in Dubai for jet skiing.
If you're looking to pick a beach for the best water sports in Dubai, La Mer, the beach should definitely be on the top of your list. This beach is popular for its Insta-friendly scenery. There are a plethora of trendy restaurants and numerous retail stores at La Mer Beach.
Without including Dubai Marina, the list of the top places to jet ski in Dubai wouldn't be complete. Enjoy a jet ski tour through Dubai Marina to experience the city's famous attractions from a brand-new perspective.
JBR beach is considered to be a hotspot for jet skiing in Dubai. This popular beach also has the coolest cafes and trendiest retail outlets.
Al Mamzar Beach Park is considered to be one of the perfect spots for hanging out with family and friends. This beach park is spread across 106 hectares. Apart from jet skiing, you can enjoy other activities also, such as skating, swimming and many more, at Al Mamzar Beach Park.
Consider a yacht rental Dubai to make your Dubai tour a memorable adventure. Our yacht rental Dubai packages let you enjoy the fun of riding a powerful and high-end jet ski with a proper trainer to guide you, which guarantees your safety and security, so you can enjoy this thrilling water ride as much as you want. The instructor will also deliver detailed information to you about precautions to be taken and other rules that you should know before going ahead for an adventurous, thrilling, and speedy ride.
Let us make your Dubai jet ski adventure an unforgettable encounter!