These Exciting Water Sports in Dubai Don't Want To Make You Miss Out On Adventures Of Water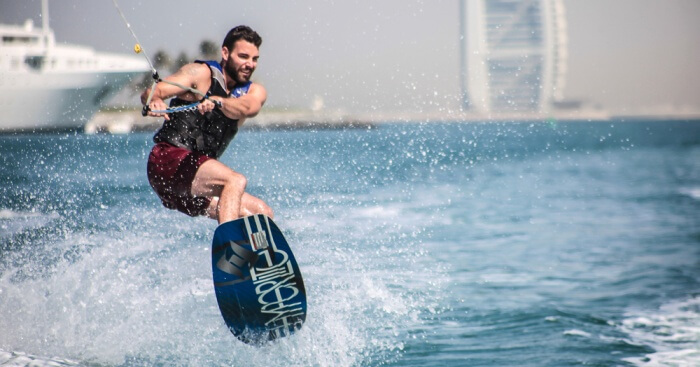 With pleasant weather of 28°C to 30°C and warm and breezy shorelines, Dubai is the perfect place for you to make your summer vacation dream come true.
Whether you're attempting to beat the warmth during the summers or simply hoping to tick a couple of things off your bucket list.
The city comes with breathtaking beaches and water sports dubai that guarantee a fun-filled and adventurous time.
With its vast coastline and Arabian Sea waters, Dubai is surely a haven for thrill-seekers across the world. From parasailing and wakeboarding to windsurfing and jet skiing, Jumeirah Beach has it all for you.
Read on to find out the kind of water activities you can explore in Dubai.
Parasailing
If you're a beginner, then this is considered to be the safest and best water sport to take up. A parasail is a special parachute that is guided by a boat and rises with the boat's speed. The most amazing thing about parasailing is the view from up in the sky, as it enables you to see the panoramic views of Dubai.
Wakeboard
A wakeboard is similar to a skateboard on which the rider has both legs fastened onto the board, which is pulled along by a motorboat. Wakeboarding blends a thrill-seeking element with an adrenaline boost. Due to the fact that you can perform a variety of stunts and other acrobatics while using a wakeboard, it is regarded as one of the greatest water sports Dubai.
Seabreacher
Is it an actual shark or an adventure machine? A sea breacher is a two-seater aircraft-like machine that looks like a metallic shark. This thrilling ride begins by going on the surface of the water at high speed and then diving down into the depths of the water.
Jet skiing
One of the finest water sports experiences you can have when visiting Dubai is riding a jet ski. The adrenaline rush is sure to kick in when the powerful motor splits the water and heads into the ocean. Nemo Watersports, which is near Burj Al Arab, is considered to be one of the best places that offer Jet Skiing.
Flyboarding
Flyboarding lets you fly freely above the water like a champion and somersault like a dolphin. It is one of the most amazing water activities in Dubai where you stand on a jetpack with a strong motor that lifts you into the air. Giving you the rush of thrill and excitement.
Your Dubai trip is incomplete if you are just scrolling through the malls, taking pictures of the skyscrapers! You are missing out on the real fun and thrill Dubai has to offer.
From cozying up on the waters in a yacht rental dubai and surfing through waves to stargazing in a serene spot, you can make your dream vacation come true in the most extravagant city in the world-Dubai.