Yacht Rentals for Families: How to Keep Your Kids Entertained on Board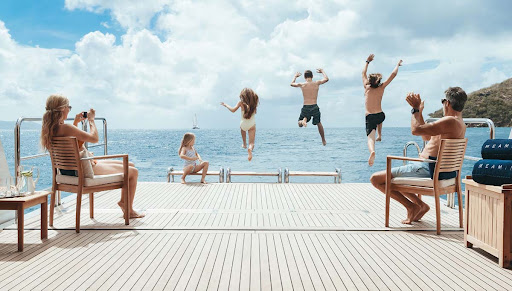 Sounds exciting right? But you must be wondering – how to keep a family entertained at sea. What happens if kids become bored or if everyone starts to irritate one other a little bit?
First of all, be aware that sailing, swimming, relaxing, and enjoying themselves will keep your family entertained, but in case you need some more ideas – here are a few ways to keep your family and, most importantly, the kids entertained aboard a yacht Dubai :
GAMES & TOYS THAT WOULD BE GREAT ON A

YACHT DUBAI
While we recommend avoiding overpacking, there are a few items you could bring that can help keep your family engaged for the week. In order to make their cabin feel more like home for younger kids, pack a few of their favorite fluffy partners. Card games like Uno and Pinochle, magnetic board games, Bananagrams, etc. - are all family-friendly games that are portable due to their lightweight design.
When traveling by yacht, you are surrounded by water. You may take your time watching the waves, and in the right locations, you can take your kids swimming, snorkeling, or water skiing if they would like to. Also, in the recommended shallow areas, you can let the kids splash around. You must, however, be cautious and follow the crew's instructions. Yacht Tour Dubai or Yacht Rental Dubai provide basic gear, but you can also pay a little fee to rent and bring items like skis and boards. You could even park the yacht, bring some fishing lines, and take your kids fishing.
MAKE A FORT AND CAMP ON THE DECK
When anchored, creating a fort is a pleasant activity for young kids. To improvise, let them use whatever equipment they have. Families can also create wonderful memories by "camping" on the deck. Bring mattresses and blankets out onto the deck on a warm, clear night to sleep under the stars! These are the kinds of cherished experiences that children and families hold onto for the rest of their lives.
Although we discourage using electronic devices (such as laptops or tablets) for a prolonged amount of time, there are times when the situation demands it. Most of the yacht rental dubai offer varied amenities like theatres and screenings to have a warm & cozy movie night with your loved ones. A movie night can be enjoyable even when the weather is good; it will be even more enjoyable if kids first build a fort on the deck before snuggling up inside.
So are you planning for an unforgettable yachting experience in Dubai? Look no further than Book.boats! Our curated selection of ultra-luxury yachts is perfect for families and groups of all sizes, and our rates are the most competitive in town. Plus, we have incredible packages that offer amazing value and the best yacht rental deals in Dubai this summer. Don't miss out on the chance to explore the stunning coastline of Dubai in style and comfort – book your yacht rental with Book.boats today!